Welcome Message
After the successful completeion of "PROTEOMICS 2020" ACC is delighted to welcome you all to the International Conference and Expo on Proteomics, Genomics and Molecular Medicine, programmed in the month of March 09-10, 2020 in Zurich, Switzerland.
Proteomics Congress works on the theme "World of opportunities and Evolution in Proteomics and Molecular Medicine" which encompass Keynote presenters, establishers, Delegates and Speakers.
Reach out the potential experts and breakthrough the excellence of understanding the multigenic human variability and effective therapy of molecular medicine.
It contributes interdisciplinary platform and valuable recognition for Posterinitiator, speakers to present and discuss the most recent trends, innovation and practical challenges encountered and solutions adopted in this field.

We are sure that your knowledge and expectation will help us to achieve our aims.
To explore the field of Proteomics and Molecular Medicine and all resources that we would like to share with you, please enjoy a walk with us in Vienna.
We hope you will join us to make Proteomics Congress a memorable event!
Thank you for your attention and collaboration!
yours sincerely,
Proteomics Conference | Committee Members
About Conference
Join all major influencers of Biochemistry and Medicine at our CPD Accredited: International Conference and Expo on Proteomics, Genomics and Molecular Medicine during March 09-10, 2020, Zurich, Switzerland.

Abstract Submission and Registration is Opens! – April 05
Our intention is to get the people from biochemistry to a single hub and to enrich their bits of knowledge.
We assure that this conference address eminent talks and discussions and advances. This conference will gear up the knowledge in the field of biochemistry and brings hidden talents out.
Reason to Attend Proteomics Congress
Being active in the social media world we often forget the importance of facing people face-to-face. There is a power in being connected with the experts who are active in your line of work.
Here are the benefits of attending Proteomics Conference
Find out new trends in the field of biochemistry and medicine
Networking with world best experts
Added research value
Manifesto to establish yourself
Crack the comfort zone
CPD Certification
Participation Certificate by IOCM
Target Audience
Global Experts in Proteomics
Proteomics Researchers
Biologists
Bio informaticians
Scientists
Young Researchers
Directors
Professors
Healthcare Professionals
Pharmaceutical leaders
Business Delegates
Clinical fellows
Students
Proteomics Research organizations, societies, and associations
Business Entrepreneurs
Training Institutes
Software developing companies
Presentation Opportunities at Proteomics Congress
For Researchers and Faculty Members:
Speaker Presentations
Poster Display
Symposium hosting (4-5 member teams)
Workshop organizing


For Universities, Associations &Societies:
Association Partnering
Collaboration proposals
Academic Partnering
Group Participation


For Students and Research Scholars:
Poster Competition (Best poster award)
Young Researchers Forum (YRF Award)
Student Attendee
Group registrations


For Business Delegates:
Speaker Presentations
Symposium hosting
Book Launch event
Networking opportunities
Audience participation


For Product Manufacturers:
Exhibitor and Vendor booths
Sponsorship opportunities
Product launch
Workshop organizing
Scientific Partnering
Marketing and Networking with clients
Session and Tracks
Proteomics

Proteomics is the scientific discipline which studies and searches for proteins that are associated with the disease by means of their altered levels of sequence. Each level of protein structure is essential to the finished molecule's function. The focus of proteomics is a biological group called proteome (set of protein sequence). Science of "omics" Foundation of proteomics Shift of emphasis from genome to proteomics Post-translational modification.
Genetics and Molecular Biology

Proteomics technologies have produced a profusion of drug targets, which is creating a lock in drug development process. There is an increasing need for better target recognition for new drug development and proteomic technologies which are contributing to it. Identifying a potential protein Mass spectrometry plays a vital role in proteomics and has become an indispensable tool for molecular and cellular biology.
Bioinformatics and Computational Biology
Bioinformatics and Computational Biology Bridging the quantitative sciences (such as mathematics, statistics, computer science) and engineering. Small sample of protein may be needed for the research and analytical purpose, or the large quantity of the purified protein may be necessary for the industrial or the commercial purpose. Analysis of Single cell sequence computational epigenetics in Human disease Engineering and Imaging Extracellular Matrix Microenvironments.
Proteomics In Biomedical Applications
Applications of proteomics in the discovery of new diagnostic, prognostic and therapeutic targets cover a wide range of example applications for the most important diseases, such as heart and cardiovascular disorders, cancer, pharmatoxicology, infectious diseases and diseases of the nervous system. Unraveling Biological Pathways and the Identification of Clinical Markers Clinical proteomics: early diagnosis Technologies for microproteomic analysis.
Proteomics in Plant and Animal
Proteomics have difficulties in the study of proteins that are not inherent in the study of proteomics. Proteins are more difficult to work than DNA and RNA. Progress in plant proteomics has been lagging behind animal and microbial proteomics due to the lack of plant genome data and the problems involved in successful protein extraction from plant material. Two-dimensional gel Electrophoresis The novelty of the problem DNA microarray Functional genomics.
Epigenomics and Epigenetics
Constant genome sequence acts differently in different cell types, responds to the environment, and changes throughout our lives. Chemical modifications to the genome sequence and to the proteins that package the genome, known collectively as the epigenome, are a major contributor to the changes in genome function between cell types and over time. The Epigenome and Disease Finding Patterns of Histone Modification DNA Methylation.
Proteins Biochemistry
Based on the research certain genes, molecules and cellular functions may become abnormal in disease such as cancer. Protein Biochemistry aims to diagnose and manipulate molecular process underlying disease and health. Molecular medicine attributes have five different, often interconnected goals. Diagnosing disease earlier Improving the reliability of prognosis Improving the effectiveness of therapies Reducing the invasiveness Monitoring health and personalised care.
Protein Interactions In Biology
Cell Signalling Systems and networks can be studied through system biology due to the Inherent complexity of signalling networks, amount and variety of Quantitative data. the wide range of stimulus-response behaviour's is noticed in cells which is central to all of Biology through cell signalling. cell signalling systems are mainly to receive input from the environment and generates an output response based on the received input. For many Human diseases, these signalling mechanisms are the basis and shows interests in areas of medicine and Human Health. According to Physio-Chemical Principles, Physical Interaction networks can define Interacting Protein Pairs. This type of matrix assist links between structural biology and system biology. Metabolic networks Gene Co-expression networks Protein-DNA Interactions Neuronal Networks Protein-Protein Interactions.
Quantitative Proteomics
Quantitative Proteomics is a Scientific Technique which is used to resolve the amount of protein present in a sample which can be further used to compare between diseased and Healthy patients. It also affords information about differences between samples. Through Mass Spectrometry Isotopic labelling of Proteins or Peptides can be Differentiated. The quantitative Proteomic approach is accordant with the increasingly broad-scope analyses which are used in other life science fields such as genomics, kinemics, transcriptomics, and metabolomics. 2DE-DIGE Mass Spectroscopy Quantitative Dot Blot(QDB) Electrospray Ionization Optimizing LC-Ms/MS for Quantitative Proteomics.
Mass Spectrometry Proteomics
Mass determination and Characterization of proteins can be done through Mass Spectrometry. For Ionization of protein in Mass Spectrometry two methods are used such as Electrospray Ionization and matrix-assisted laser desorption/Ionization. Top-down and Bottom-up approaches are used for the analysis of protein. Tandem Mass Spectrometry Targeted Mass Spectrometry Plasma Mass Spectrometry Gas Source Spectrometry Accelerator Spectrometry.
Genomics
Blooming the techniques for accurate genome is one of the most challenging in the field of Genomics. An organism's complete set of DNA is called its genome. Virtually every single cell in the body contains a complete copy of the approximately 3 billion DNA base pairs, or letters, that make up the human genome. Implications for Medical science Human Genome project DNA Sequencing.
Next-generation sequencing and other techniques
Proteins depicted in a particular tissue under a defined set of conditions and at a particular time which are used to compare expression in reference samples is termed as Protein Expression Profiling. DNA microarrays Inspired the concept of Protein expression profiling which enables the mRNA expression level in a single experiment. Artificial Neural Network Models 2DE Gel Patterns Troubleshooting image analysis in 2DE.
Integrating Transcriptomics and Proteomics
Protein network is essential to know the function of highly complex eukaryotic tissues like Human Brain. Biomolecular Interaction detect which is a section of functional Proteomics Intention is to assist Interaction patterns present within a protein network. Based on Biochemistry, Physics and Molecular Biology. Biomolecular Interaction contains a variety of methods. Biolayer Interferometry Microscale Thermophoresis Surface Plasmon Resonance Advanced light microscopy Techniques.
Structural Genomics
The success of structural genomics initiatives requires the development and application of tools for structure analysis, prediction, and annotation.Structural genomics is a term that refers to high-throughput three-dimensional structure determination and analysis of biological macromolecules, at this stage primarily individual protein domains. Computational method for structural analysis Homology modeling Structure based functional analysis Development and Application.
Pharmacogenomics
Pharmacogenomics is the study of how genes affect a person's response to drugs. This relatively new field combines pharmacology (the science of drugs) and genomics (the study of genes and their functions) to develop effective, safe medications and doses that will be tailored to a person's genetic makeup. Drug discovery technologies Predictive prescribing Random library Screening Limitations of Pharmacogenomics.
Enzyme Nanotechnology
Proteins and Nanotechnology are the two fields which are developed to increased fidelity in Identifying Post-translational Protein Modifications and to provide a programmed Isolation and to espial the rare proteins which are present in both tissues and serum. MALDI-TOF serum profiling Top-Down Mass Spectrometry Nanotechnology.
Proteomics In Nephro Diseases
In Nephrology, rooted renal disorders with the primary renal environment, including cystic renal disorders, renal tubular disease, primary glomerular diseases, and rooted renal neoplasms have been described based on genetic analysis. urinary proteins on the 2D gel using a dye precipitation method can be analysed based on proteomic analysis of the urine, urinary proteomics. Nephrotoxicity Diabetic Nephropathy Urological Malignancies Podocyte Proteomics.
Cardiovascular Proteomics
Cardiovascular Diseases such as angina and Heart attack which are known as Coronary artery diseases are diagnosed by Proteomics by fulfilling its potential. And many Proteomic techniques are rapidly evolving. The interplay between proteome change and cardiovascular disease can be understood by Biochemical and Physiological methods. Morbidity and Mortality are caused mainly due to Cardiovascular disease which causes deaths. Transcriptome and RNA Profiling is used to outline CVD processes and search for Biomarkers of the disease. DIGE of Rat Heart Proteins Anti-Hypertensive Therapy 2D PAGE for Cardiovascular Proteomics Analyse Cardiac muscle Proteome.
Human Brain Proteome
In all vertebrates and most Invertebrate animals Brain is the organ which acts as a centre of the Nervous System. In order to Scrutinize the related diseases and molecular mechanism of the Brain, we gathered various tissue samples and also analysed the iTRAQ C based Quantification proteome. The cerebral cortex present in Human Brain contains Billions of neurons which are connected by synapses to other neurons. Brain Function can be understood as an Implementation of algorithms and also as an information flow. Estimate Biomarkers of Alzheimer's Disease Traumatic Brain Injury of Proteomics Proteomic application to the Brain Applications of Human Brain Proteomics.
Cancer Proteome and Biomarkers
Proteomics technologies are used for early detection and diagnosis of cancers for the development of novel therapeutic agents. Observation, prognosis, diagnosis, and treatment of breast cancer are now feasible with the furtherance in the field of proteomics along with the use of mass spectrometry. The detection of the protein patterns has enabled researchers to differentiate the disease and disease-free state associated with breast cancer has been uncovered with the development of proteomics technologies. Proteins expressed or found in the serum, plasma and the tumour cells using the novel methodologies provide a better view of the heterogeneity of the cancers. Breast Cancer Proteomics Skin Cancer Proteomics Lung Cancer Proteomics Ovarian Cancer Proteomics Colorectal Cancer Proteomics.
Molecular Medicine and Diagnostics
Molecular diagnostics is a prominent disruptive innovation in healthcare by the introduction of many tools that are having a profound impact on healthcare delivery. These include next-generation sequencing, liquid biopsies, wearable sensors, point-of-care assays, and early cancer detection. Join industry heads at the molecular diagnostics occasion to talk over recent advancements and decipher how changes in act, reimbursement, and execute guidelines will impact progress in new markets caused by innovations in Molecular Medicine, Biology, and Pathology. Precision medicine Stem cell and Regeneration NGS for infectious disease diagnostics.

Global Market Analysis
Global Proteomics Market
The Global proteomics market rate was valued at over $24,361millionin in 2017. The market rate is proceeding due to target diseases such as cancer, diabetes, cardiovascular and so on. The main aim of studying proteomics in the21st century is to perceive the diseases at the early stages. multiple reactions monitoring is the recent advancement in this field as it specifies the proteins present in the cerebrospinal fluid to dredge up multiple sclerosis in later stages.
The Global Proteomics market is segmented into Microarray, chromatography, x-ray crystallography, Immunoassay, Spectroscopy, protein fragmentation segments, Electrophoresis, and others. The reagent segment will lead to the overall proteomics market in the forecast period. proteomics market in terms of the product type is such as Instrumentation Technologies, Reagents, and Services.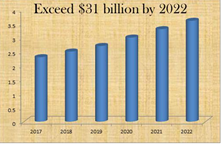 The Global Proteomics Market is mainly segmented based on North America, Europe, Asia, Pacific, Latin America, Africa, and the Middle East. Further, each region is hinged to provide global market revenue in countries such as India, Japan, the U.S, Canada, U.K, Brazil, and GCC countries.
A glance at Market of Proteomics:
The Global Proteomics business sector to develop at a CAGR of 8.39% over the period 2014-2019. Propels in mass spectrometry have revolved into a noteworthy figure for the improvement of the business sector as the information gave by these instruments are exceedingly exact and widely utilized for information Examination.
Increment popular for customized medications is one of the significant benefactors to the development of the business sector. Customized drugs are created by hereditary make-up of an individual, and today are broadly utilized for the treatment of diabetes and diseases, for example, lung tumor.
Major Proteomics related associations around the Globe:
Human Proteome Organization
European Proteomics Association -EUPA
Spanish Proteomics Society– Sport
Netherlands Proteomic Platform- NPP
Japan Human Proteome Organisation - JHUPO
Italian Proteomic Association - ITPA
Portuguese Proteomics Association - RedeProcura
Iranian Proteomic Society
Taiwan Proteomic Society - TPS
Austrian Proteomics Society
European Proteomics Association
British Mass Spectrometry Society
Belgian Mass Spectrometry Society
Danish Mass Spectrometry Society
Australian and New Zealand MassSpectrometry Society
Indiana Proteomics Consortium
Proteome Society
European Federation of Biotechnology
Australasian Proteomics Society
ProteomicsMarket by Product, USD Million, 2013 - 2024:
Proteomics market outlook – 2025
The global proteomics market intelligence was valued at $24,361million in 2017, and isexpected to reach $72,444 million by 2025, growing at a CAGR of 14.5% duringthe upcoming period. Proteomics learns large-scale demands in drug discovery, advancement ofpersonalized medicines, and discovery of markers for disease diagnosis, whichhave escalated the growth of the proteomics market in the past few years. Withexpansion in awareness concerning the welfare of personalized medicines,companies and government organizations have increased their R&D expenditureon the development of proteomics.